Residential Locksmith Of Baltimore MD
The next time you're looking for a residential locksmith, look no further than Locksmith of Baltimore MD. Our team is on call 24 hours a day, seven days a week. Our expert technicians will come to your house no matter where it is, from Federal Hill to Fells Point. No job is too big or too small for our team. You won't need to call on anyone else.
We'll Get The Job Done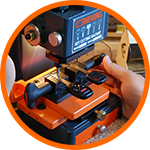 When selecting a residential locksmith, quality is supremely important. Our staff has years of combined home locksmith experience. You can trust that we'll do the job right the first time, saving you time and money. And our work withstands the test of time. You won't have to call on us in a year to re-do our work. That's not how our company operates.
Durability, security, and affordability are our hallmarks. When Baltimore MD needs someone to rekey house locks, they turn to us for that reason. The products we use are built to last. They'll stand up to the rigors of everyday use, and do their job in preventing unwanted intruders. They'll be tough on criminals but easy your wallet, too.
Don't Get Caught in the Cold
Winters in Baltimore MD can be rough. They're even rougher when faced with a house lockout. No other residential locksmith is as responsive in the face of a customer emergency. Call us at any time, day or night. One of our expert employees will hop into our mobile lab and be at your house in no time. We'll make sure that you aren't stuck waiting around for someone to let you back in.
We provide emergency locksmith services all over the Charm City. From Camden Yards to the Walters Art Museum and beyond, our team is there to keep you safe and sound. Ask your friends and family or check our online reviews. Thousands of residents of Baltimore MD trust our speed and our reliability. A company is only as good as its reputation. We think you'll be impressed with ours. No other residential locksmith can touch the quality of our craftsmanship or our prices. In fact, the next time you need home keys made, compare us to any of the "big box" stores. We'll beat anyone's prices, even theirs.