Home Locksmith Of Baltimore MD
Burglaries are a sad fact of life in all corners of Baltimore County. Whether you live in East Baltimore or Federal Hill, you need a home locksmith you can trust. Locksmith of Baltimore MD has the experience and knowledge you need to keep your residence safe and secure. Our high quality materials and expert craftsmanship will keep you and your family safe.
Get In And Keep Others Out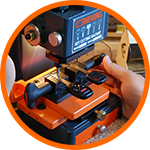 Every homeowner in Charm City wants to make sure that only those who are invited can get in to their houses. Count on us to help you achieve that without breaking the bank. We're a full-service discount locksmith, serving residences all over Baltimore MD. Our highly trained home locksmith staff will come direct to your property to solve all of your home security problems.
Locked out? Our team is on call 24 hours a day, seven days a week to let you back in. Worried about nosy neighbors or theft? We'll come key locksmith house. A landlord with new tenants? We'll come and re-key your existing locks for your new residents' security. Whatever you need, you can count on us. Contact us for quick, courteous home locksmith service.
Our Prices Can't Be Beat
No home locksmith in Baltimore can give you a better bang for your buck. Our prices are competitive with any locksmith local or national. Just because we're not the big brand or the major home improvement chain doesn't mean we can't beat their prices on locks, keys, and other home security services. Before you have someone else do it, compare our prices.
We may be inexpensive, but we're not cheap. We provide high quality, expert locksmith services, and use only durable and secure materials. We won't skimp on quality to beat someone's price. You can trust that we'll do the job right and that our materials are built to last. You won't need to worry about having to do it all over again next year.
No home locksmith in Maryland has more training and experience than our team. We require every one of our technicians to undergo continuous training in the most advanced technologies and techniques available on the market. Part of how we save you money is by doing the job efficiently and correctly. Whenever you need certified locksmith services, call us first.