Commercial Locksmith Of Baltimore MD
Are you looking for someone to help you solve a problem? Businesses all over the Chesapeake Bay rely on Locksmith of Baltimore MD. We are their commercial locksmith. We'll make sure that your company is safe and secure. We work on regular door locks. Also, we do complex security programs. No job is too hard. Our team has the tools. They also have the expertise needed to do the job well. At a price that's affordable for any business.
We Have The Experience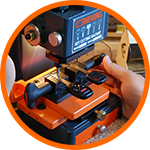 No other locksmith company in Baltimore has more experience with commercial security than we do. Our team has worked with local companies on projects big and small. We've developed a clear understanding of our clients' needs. Not just anyone can be an effective commercial locksmith. It takes knowledge of the latest tools and technology.
We understand that everyone's needs are different. A small coffee shop may just need us to change office lock. A bank may need a more advanced security setting. This will enable them to protect their clients' data. We have commercial locksmith solutions both large and small. Our staff will tailor a solution to your company's needs and budget.
We're With You Every Step of the Way
Are you in need of lasting support? The end of our job is just the beginning of our relationship with your business. We're on call to solve any problem you may have, day or night. Contact us whenever your company is faced with an office lockout problem. One of our staff members will come right to your place of business. We will open the lock without doing any damage to your doors or your security system.
No other locksmith business in Maryland is as responsive to the needs of their customers as we are. We'll work with your business to quickly identify ways to improve your security. Do you need help immediately? We'll be just a phone call away whenever you have a problem. Whenever something isn't working up to your standards, contact us. Our team will be out to your business in no time.
Contact us today to schedule a free commercial locksmith consultation. We can install anything such as tough locks and commercial safes. We can also fit an emergency exit panic bar on your back door. We use high quality, reliable materials that you can trust. And we'll craft a solution for your company that doesn't put unnecessary stress on your budget.