Automotive Locksmith Of Baltimore MD
Locksmith of Baltimore MD doesn't just serve homes and businesses in the Charm City. We also have the expertise to meet all of your automotive locksmith needs, too. Oriole's fans know what to do when they can't get into their cars. There's only one company to call. Our mobile technicians are on call 24 hours a day. That is seven days a week. Whenever you need to get in to your vehicle, call us.
We Provide a Delicate Touch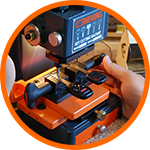 Modern cars are loaded with technology. Their locks and security systems are no exception. Our expert staff can solve any auto lockout problem. No matter the vehicle. We have more automotive locksmith experience than any other company in Maryland. We know what tools to use. We will get you back into your vehicle without damaging its security system.
If for whatever reason your system is damaged, you can count on us for effective car locksmith replacement. We have experience working with virtually every make and model of vehicle on the road today. Our team keeps up to date with the latest technological advances. By the time we're done with your vehicle, its security system will work just like the day it was originally installed.
Save Money by Hiring Us
Nowadays, the average set of auto transponder keys is a sophisticated piece of technology. Losing your keys can be a very costly proposition. You can't just take your keys to any hardware store and make a replacement. Going back to the dealership is inconvenient and expensive. That's where we come in. We're a lower-cost alternative.
Nobody else, not even your dealership, can replace ignition key at a lower price than we can. No other automotive locksmith in Baltimore can match our combination of price and experience. Our mobile fleet has tools to replace and reprogram your vehicle's keys quickly and affordably. We'll come right to you to get you back in to your car. That is whether downtown or up in Hamden.
If you've broken your vehicle's keys, we can get you an affordable replacement. Our team of experts will come right to you for auto key programming. Our automotive locksmith services are available 24 hours a day, seven days a week throughout Baltimore County.