Auto Transponder Keys Of Baltimore MD
Today's modern vehicles are equipped with more technology than ever. You can call family. Also, you can stream music. And even make restaurant reservations all while driving! Your vehicle's keys are no exception. Many makes and models are now equipped with special auto transponder keys. Locksmith of Baltimore MD knows how to maintain and replace these specialized instruments.
We Can Repair All Keys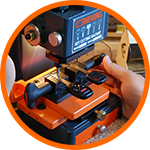 These are increasingly expensive parts of your vehicle. Special security systems are a great perk. But it can be costly if you lose your keys. That transponder chip key can cost upwards of several hundred dollars at a dealership if lost or damaged. However, our team can repair or replace your keys at a fraction of the cost of your dealership.
Our technicians have the technology to repair and replace automotive transponder keys for most makes and models. We'll drive our mobile lab directly to your car and do the job on site. Calling us will save you time and money. We're just as effective as the car dealership. But we don't mark up our prices like they do. Why would you call anyone else?
Nobody Has More Advanced Technology
Nowadays, auto transponder keys are sophisticated pieces of equipment on your vehicle. But you don't have to break the bank just because they're sophisticated. Our team can make you cheap transponder keys that will work just like your vehicle's original set. We use quality materials and advanced technology to get you back on the road again.
A car key transponder isn't something that you can replace at the local hardware store anymore. It includes advanced technology that requires special equipment to repair and program. However, we've kept our prices closer to that of the local hardware stores. It's one more way that we provide our customers with superior value. People all over Baltimore MD have taken advantage.
Our team of expert technicians knows what it takes to replace your auto transponder keys. We're able to provide you cheap transponder keys that stand up to the test of time. Our keys are reliable and durable, at only a fraction of the price charged by auto dealerships. We use the same equipment, but charge you a fair price for the work.