Auto Lockout Of Baltimore MD
We've all done it. Whether you've locked your keys in your car, misplaced them, or even dropped them down a Charm City sewer grate, an auto lockout is a sad event. Don't fret! Call Locksmith of Baltimore MD. One of our mobile labs will come directly to your vehicle, and a highly trained technician will quickly get you back inside and on the road.
We'll Get You Back On The Road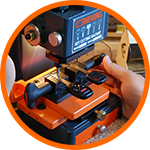 Don't let locked keys in car completely derail your day. Our team has the specialized equipment needed to open your vehicle's doors without doing any damage. We understand that your vehicle is an important investment. Don't call it into question with just any auto lockout provider. Make sure you go with someone experienced.
Our mobile labs are on call day and night for any auto lockout problems. When you're stranded, call our 24 hour lockout hotline. Whether you're downtown or in the suburbs, on Federal Hill or in Fells Point, our team will be there quickly with all of the tools they need to open the door. We're not just responsive, either. Our services are very affordable!
Compare Our Prices
Our advanced technology helps our team to work quickly and efficiently, saving you money. Our mobile auto lockout labs are equipped with the tools we need to unlock just about every make and model on the road today. When you're locked out of car, there's only one company you need to call. Our team will get you back on the road, all while saving you money.
We are the emergency lockout specialists. Don't try to do it yourself and risk damaging your vehicle. Don't go back to the dealer and pay marked up prices. Call our 24 hour hotline and dispatch one of our experts to your vehicle. We promise that our prices won't be beat. If you can find a better quote, our team will be happy to meet it. You won't be disappointed.
People all over the city turn to Locksmith of Baltimore MD to rescue them from an auto lockout. Ask your friends, neighbors, and colleagues. Don't be stranded out in the cold. Don't get desperate. Simply give us a call 24 hours a day, seven days a week. Our mobile lab will come right to your car, and our friendly technicians will get you back on the road in no time!